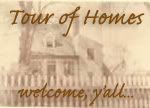 I've been in a bit of a blogging slump, though life is cruising along pretty well. For those 2 or 3 of you who will see this, here is my lovely home.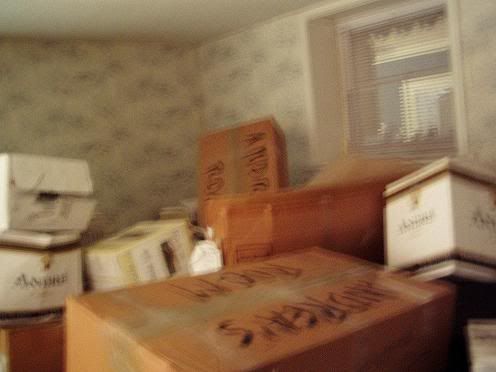 Alas, this is a terrible picture of our room of "packing in faith", I can only say it's fuzzy because the stress of "packing in faith" has made us all a bit wobbly. Still waiting to hear on jobs in Tulsa and waging spiritual warfare on the Enemy who is in the business of discouragement and delay.
This is my son's room. I have to say that by the time we got it finished with the cute paint and border (which you can't see, but has cars and trucks on it) he was 12 and had outgrown it. Perhaps the next owners will love it. Or paint over it.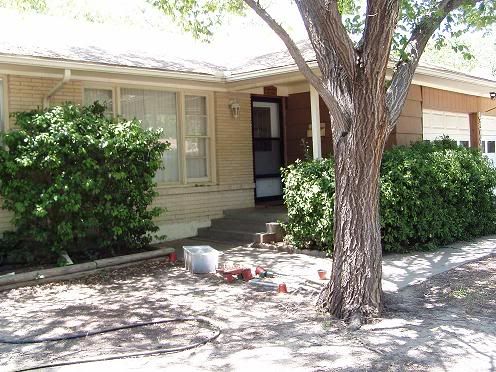 Apparently we're much calmer outside. Yes, the yard is bereft of grass. It's a drought. The plant pots are from the garden that didn't happen this year. BooMama said to print it the way we live. We actually threw away the pots yesterday, but we aren't sodding the yard until this heat breaks. In general the front door is open, even as late as midnight. Or later if I'm not paying attention. We're all night owls here and obviously oblivious to intruder danger.
Yes, that's him. Clicker in hand. But you can't have him, he's taken. By the owner of the Diet Coke from Whataburger. The perennial laundry basket peeks out from the coveted chair-and-a-half perched beneath the holy ceiling fan. The walls are a yummy Bit-O-Honey color that I just love.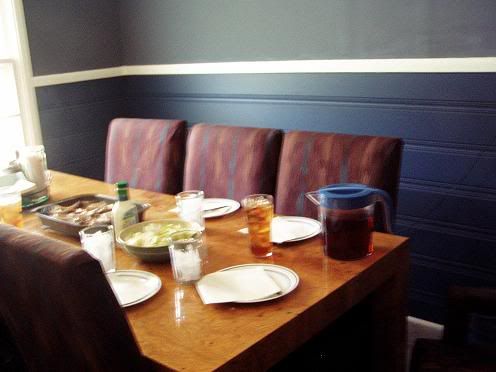 Welcome to Sunday dinner. A little Pork Chop Casserole, salad, sweet tea, and cobbler for dessert - prepared by my 17 yr. old daughter. Determined just a few months ago to pre-make (as much as possible) my Sunday dinner so I could actually enjoy the Sabbath. What a welcome home from church! God bless Time Bake and Crock-Pots!
We just painted the kitchen and I love it so much I think I'll do it all over again in my new kitchen. The top half is a Ralph Lauren River Rock Texture in SwampWillow. The bottom half is a Ralph Lauren semi-gloss in Mediterranean. You can't see the stained glass window, but it really looks nice with this. The master just got a new coat of paint this week - Waterwheel by Behr, which is really boring, but good for resale. It does look nicer, I just prefer real color.
My children took the pictures, uploaded them, and linked it all together. I'm afraid I'm woefully inept at this sort of thing. I will assure you that though our home may be a bit (or a lot) untidy and in the process of remodeling and packing, you are welcome at anytime. Except maybe early morning. We will stop what we are doing, TiVo what we were watching, and serve you something yummy to eat. All 6 of us cook - my 13 yr. old son made cheesy scrambled eggs, bacon, biscuits, and gravy for me this morning. And most of all we will laugh with those who laugh and weep with those who mourn. Because we love you.